Aroostook County is Home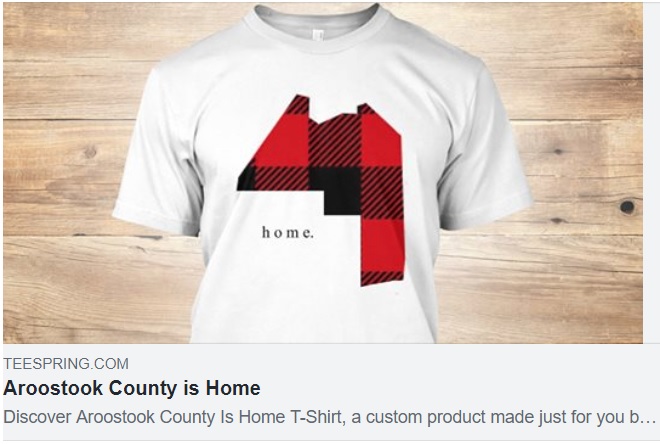 Many of us were born in "The County" but have since moved away. But Aroostook County will always hold a special place in our hearts! It will always be "home". Show your pride in The County with our limited edition Aroostook is Home shirts, totes and mugs. Makes a great gift!

** BUY NOW **
Previous Day's Photos:
September 4, 2018 -Southern Aroostook Sunset
August 30, 2018 -Lake Sunset
August 21, 2018 -Sunflower field
August 20, 2018 -Sunflowers and sunsets
August 14, 2018 -Grain and Dark Skies
August 14, 2018 -Sunflowers at sunset in Mapleton
August 13, 2018 -Sunflowers in Mapleton and Westfield
August 11, 2018 -Early Morning Balloon Ride
August 4, 2018 -Vibrant sunsets in Castle Hill and St. Froid Lake
August 2, 2018 -Hot Air Balloon
July 31, 2018 -Misc Pics around the Northern Maine Fair
July 24, 2018 -Old Potato House and Wildflowers on the Cleaves Rd. in Presque Isle
July 19, 2018 -Wildflowers and amish cutting hay
July 17, 2018 -Potato Blossoms, morning fog and a lake sunrise
June 30, 2018 -Flyfishing The St. John River
June 27, 2018 -Moose and Lupine
June 25, 2018 -Midsommar in New Sweden
June 22, 2018 -Amish Barn Raising on the Gray Rd. in Easton
June 20, 2018 -Spuds are peeking through the ground and scenic lookout at Long Lake
June 18, 2018 -Fox Having Lunch
June 13, 2018 -Lupine, early morning canoe ride and a moose
June 11, 2018 -Bears, Lupine and an Amish Auction in Easton
June 7, 2018 -Fox kits
June 6, 2018 -Amish Barn Raising on the Page Rd. in Fort Fairfield
June 5, 2018 -Moose in water
April 24, 2018 -Sunset at the Presque Isle Stream
April 16, 2018 -Robins having lunch
January 13, 2017 -Snowy scene in Presque Isle
January 10, 2017 -Amish ice harvest (photos by Lovena West)
January 7, 2017 -Winter day at Mantle Lake Park in Presque Isle
December 27, 2016 -Old Potato House in Presque Isle
December 6, 2016 -Snowy scenes around Presque Isle
December 4, 2016 -Presque Isle Holiday Light Parade Slideshow with Christmas Music
December 1, 2016 -Plow truck on Main St. in Presque Isle during the storm
November 20, 2016 -Blue Jay
November 12, 2016 -January image from our 2017 Aroostook County Calendar
November 4, 2016 -Teen Room at the new Presque Isle Rec Center
October 26, 2016 -Snow on the Bangor Rd. in Easton
October 21, 2016 -Foliage at the Presque Isle Country Club
October 18, 2016 -Downeast Foliage
October 11, 2016 -Foliage and a Caribou Church Steeple
October 6, 2016 -Foggy Morning at Anrold Brook Lake
October 4, 2016 -Misc Foliage
September 26, 2016 -Autumn Path
September 22, 2016 -Potato Harvest
September 1, 2016 -Tribute to Fallen Heroes on a lawn in Presque Isle
August 29, 2016 -Balloon Launch at the Crown of Maine Balloon Festival in Presque Isle
August 21, 2016 -A B-52 and KC-135 Flew over Loring Airforce Base during the Open House. The Arch Hangar was also open for public viewing
August 7, 2016 -A field of early blooming sunflowers in Fort Fairfield that were planted for a wedding
August 2, 2016 -Field of wheat in Mapleton
August 1, 2016 -Sunset at the Northern Maine Fair
July 31, 2016 -Sand Cove - Pleasant Lake in Island Falls
July 18, 2016 -Field of Fireweed
July 8, 2016 -Interior of the Little School - Easton, Maine
June 28, 2016 -State St. Bridge in Presque Isle at Sunset
June 21, 2016 -Dandelion Fuzz and Fuzzy Clouds in Presque Isle.
June 9, 2016 -Barn in Dyer Brook.
June 8, 2016 -Kids dancing around the May Pole during last year's Midsommar Festival in New Sweden.
June 6, 2016 -Lady Slipper and misc pics from the Nordic Heritage Center in Presque Isle
June 4, 2016 -Downtown Houlton
May 31, 2016 -Flowering Trees on the UM Presque Isle Campus
May 30, 2016 -Veterans' Section of the Fairmount Cemetery in Presque Isle
May 22, 2016 -Farming Pics
May 20, 2016 -Magnolia Warbler
May 17, 2016 -Amish cow pasture
May 16, 2016 -Selling Fiddleheads in a snowstorm and misc shots
May 15, 2016 -Fresh soil and sprouting leaves
May 6, 2016 -Farmers getting the fields ready for planting
April 24, 2016 -Amish Farm
April 23, 2016 -Amish Sawmill
April 21, 2016 -Woodland Church
April 16, 2016 -Amish Metal Barn
April 12, 2016 -Goldfinch & Hawk
April 6, 2016 -Lonely pair of trees in North East Presque Isle
March 30, 2016 -Perham Barn
March 25, 2016 -Snow snakes going past old shack in Fort Fairfield and Full Moon Rise in Presque Isle
March 23, 2016 -Full Moon Rise behind a barn in Fort Fairfield
March 21, 2016 -Clouds reflecting in a stream and new snow
March 20, 2016 -James School and some Spring meling
March 18, 2016 -Perham cemetery
March 15, 2016 -Sunset and old barn in Chapman
March 11, 2016 -Long Exposure of a Snark Missile Hanger in Presque Isle
March 10, 2016 -Grange Hall 143
March 9, 2016 -Melting snow in Presque Isle
March 6, 2016 -Old farm truck in Easton on a snowy day
March 4, 2016 -Old red farm trucks in Washburn
March 3, 2016 -Old Barn and Hay Rake in Washburn
March 2, 2016 -Snowy Day in Easton
March 1, 2016 -Caribou Cemetery
February 29, 2016 -Amish Farm in Easton
February 28, 2016 -Barn near the Aroostook River in Caribou
February 27, 2016 -Old Barn and Potato House behind maple trees.
February 26, 2016 -Red Farm Building in Fort Fairfield.
February 24, 2016 -Old Barn on the Center Limeston Rd in Fort Fairfield.
February 18, 2016 -Farm on the Parkhurst Siding Rd in Presque Isle.
February 16, 2016 -Mapleton Barn.
February 15, 2016 -Barn on the Hughes Rd. in Mapleton. Barn has now fallen down.
February 10, 2016 -Amish farm on Rt. 163 in Easton.
February 9, 2016 -Fort Fairfield farm landscapes.
February 8, 2016 -Farm on the Brewer Rd in Presque Isle in Black and White.
February 6, 2016 -Abandoned Barn on the Center Limestone Rd. in Fort Fairfield.
February 5, 2016 -Old Potato House in Fort Fairfield.
February 4, 2016 -Sunset and a country rd. north of Presque Isle.
February 2, 2016 -Barn on the Easton Rd in Presque Isle. Barn has since had metal siding put on...
January 28, 2016 -Bare rows in a field on the Higgins Rd. in Presque Isle
January 27, 2016 -A red barn on the Reach Rd. in Presque Isle stands out against the snow
January 26, 2016 -Cabin at Aroostook State Park
January 20, 2016 -Barn on the Belyea Rd. in Caribou
January 19, 2016 -Stream at Mantle Lake Park
January 18, 2016 -Chickadees
January 16, 2016 -Old Farm building on the Cleaves Rd. in Presque Isle
January 7, 2016 -Amish Winter Clothes Line in Dyer Brook
December 22, 2015 -Dynamic Winter Sky
December 15, 2015 -Snow near the post office in Presque Isle today
December 7, 2015 -Holiday Light Parade in Presque Isle. Includes a slideshow set to music
December 4, 2015 -A fresh coat of snow in Presque Isle sticking to the trees
November 29, 2015 -Sunset and old barn in Presque Isle
November 24, 2015 -Fresh blanket of snow and sunset at the James School in Presque Isle
November 9, 2015 -PT Farms Barn in Presque Isle with the siding taken off. Taken about 2 weeks before the barn was torn down. Includes interactive 360 Panorama of the interior
November 1, 2015 -Old Barn and Potato House in Easton
October 30, 2015 -Bright orange Tamaracs in a muted landscape in Easton.
October 26, 2015 -Long Exposure of an old farm shed in Fort Fairfield.
October 22, 2015 -360 Panorama on a hiking trail at the Nordic Heritage Center.
October 20, 2015 -Foliage: Hiking trails in Presque Isle.
October 14, 2015 -Foliage: Aroostook Farm, Mantle Lake Park and the old sanatorium in Presque Isle.
October 12, 2015 -Fall foliage at the James School in Presque Isle. Includes a 360 Panorama
October 6, 2015 -Old Railroad Bridge over the Aroostook River in Washburn. Includes a 360 Panorama
September 29, 2015 -Maine Air National Guard (MAINEiacs) KC-135 at the Northern Maine Regional Airport in Presque Isle
September 27, 2015 -Full Blood Moon rising behind a barn on the Brewer Rd. in Presque Isle
September 22, 2015 -Brown Eyed Susans by the Aroostook River in Washburn
September 20, 2015 -Barn and Soy Bean field
September 16, 2015 -Amish kids on a Hay Wagon in Fort Fairfield (water color)
September 14, 2015 -Sunset Kayak Ride in Island Falls
August 28, 2015 -Crown of Maine Balloon Festival
August 13, 2015 -Long stretch of space last night on the Henderson Rd. - Presque Isle
August 8, 2015 -360 Interactive Panorama shot in the middle of a field of potato blossoms. Turn up your sound to hear "Wonderful World" in the background!
August 4, 2015 -Calm lake in Island Falls, Ducks taking a nap and a frog
July 29, 2015 -Northern Maine Fair: Pig Scramble, Motorcycle Jumping, long exposure shots in the Midway, etc.
July 26, 2015 -Loring Land Speed Races and sunset behind a field of grain in Mapleton.
July 24, 2015 -Saint Denis Church in Fort Fairfield.
July 23, 2015 -Pig on an Amish farm and misc sunset pics on Fort Fairfield.
July 15, 2015 -Amish kids riding on a hay wagon. Sunset and an Amish homestead in Easton
July 14, 2015 -Smoke from Quebec makes for a nice sunset behind a field of white flowers in Caribou
July 13, 2015 -Long exposure moon reflections and Loring control tower sunset
July 9, 2015 -Sunset at the Mapleton United Baptist Church
July 8, 2015 -Mapleton Dairy Farm
July 7, 2015 -Sunset, thunderstorm and wildflowers at Loring Air Force Base - Limestone, Maine
July 6, 2015 -Sunset at lake Josephine in Easton. Old John Deere tractor on the Conant rd.
July 5, 2015 -Moon reflections on a lake, Fishing in a canoe on a rough lake and mics July 4th pics
June 30, 2015 -Picking Strawberries in Aroostook County
June 28, 2015 -Mapleton Daze: Parade, Fireworks and Maple Meadow Farm Festival
June 24, 2015 -St. Louis Catholic Church in Fort Kent and St. Luce Catholic Church in Frenchville
June 23, 2015 -Northern Lights and the old PT Farms barn north of Presque Isle
June 22, 2015 -Hilling potatoes and lupine in Fort Fairfield
June 21, 2015 -Midsommar festival in New Sweden, Maine
June 19, 2015 -River crossing mural in Fort Kent.
June 18, 2015 -Amish families from all over Aroostook gathered in Fort Fairfield for a barn raising. The whole thing took only 8 hours!
June 15, 2015 -Installaton of the 50 Turbine Wind Farm in Oakfield has begun.
June 12, 2015 -Barn and dandelion fuzz in Presque Isle, stream at Arooostook State Park
June 10, 2015 -Flags at Fairmount Cemetery in Presque Isle, Tractor that looks like a Praying Mantis and line of tractors with flags
June 8, 2015 -Docks being put out in local lakes, new wasp nest, old barn in Dyer Brook
June 7, 2015 -Dandelions in Monticello, crab apple blossoms and a bee on forget-me-nots
June 1, 2015 -Water in a stream on the Notch Trail - Aroostook State Park in Presque Isle
May 31, 2015 -James School and dandelions. In-cloud lightning over a lake in Island Falls
May 29, 2015 -Dandelions and the PT Farms Barn north of Presque Isle, New Sweden Cemetery and Vine House
May 27, 2015 -Bridge over the Prestile Stream - Easton, Maine
May 25, 2015 -Memorial Day Parade in Presque Isle
May 24, 2015 -Showers moving through downtown Houlton on Saturday
May 22, 2015 -Winding sky in Presque Isle, Azalea reflections in a mud puddle after a shower, Antique Potato Digger and Sunset on the Aroostook River
May 21, 2015 -Aroostook River Canoe/Kayak race, Canada Goose on her nest and Male Red-Winged Blackbird
May 20, 2015 -Goldfinches
May 19, 2015 -Magnolia Warbler
May 18, 2015 -Long exposures at the Fort Fairfield Railroad museum
May 16, 2015 -Planting potatoes in Washburn and Caribou. Rows and rows of fresh farm soil
May 12, 2015 -Railroad bridge over the Aroostook River in Washburn
May 11, 2015 -Warblers in Presque Isle
May 7, 2015 -Chipmunk eating worms, sparrow and mossy stumps
May 6, 2015 -James School at sunset last night in Black & White, various streams at Mantle Lake Park in Presque Isle this morning
May 2, 2015 -Black & White Amish Sawmill and falling down building in Presque Isle
May 1, 2015 -Early morning in Presque Isle: A mink, bird and beaver
April 30, 2015 -Amish homesteads in Fort Fairfield and Easton, Maine
April 29, 2015 -Carson Union Church, Woodland, Maine was moved to its current location on Church St. in 1930
April 26, 2015 -Land Speed Races at the former Loring Air Force Base in Limestone, Maine.
April 22, 2015 -Foggy morning at the James School and Arnold Brook Lake in Presque Isle.
April 21, 2015 -Spring birds are getting some color.
April 18, 2015 -Sunset at the Aroostook River bridge, US Route 1 in Presque Isle.
April 13, 2015 -Canada Geese and ducks in Presque Isle and a cemetery in Woodland.
April 10, 2015 -Sunset at the United Methodist Church in Caribou and an old barn in Woodland
April 9, 2015 -Northern Maine Veterans Memorial Cemetery in Caribou at sunset
April 5, 2015 -Conant Rd in Fort Fairfield, Horse Pasture on the Ashby Rd. in Presque Isle, Snow Squall on Easter Sunday in Presque Isle
March 27, 2015 -Fort Fairfield Earlier Today: Public Library, Block House, Community Bandstand and Main St.
March 23, 2015 -Blowing snow engulfs cars between Presque Isle and Easton.
March 19, 2015 -Barn and Homestead in Washburn, old farmhouse on the Green Ridge Rd. in Presque Isle, Ashby Rd. in Presque Isle.
March 18, 2015 -Gray Squirrel, Clearing the roads and a weathered barn in Washburn.
March 17, 2015 -Red quonset buildings add contrast to the landscape in Washburn.